"When you learn to fully accept yourself and give yourself the freedom to express who you are and how you want to be seen, then you will have arrived at the most powerful expression of you."
Kristina Savka, a multifaceted professional with decades of experience in the creative industry, has unveiled her latest venture, "The Amplified Woman" program. Drawing from her extensive background as a Fashion Designer, Stylist, Fashion Trainer, Custom Design Couturier, Author, Speaker, MC, Online TV host, Camera Confidence Coach, and Model, Kristina has embarked on a mission to empower CEOs, Consultants, Coaches, Authors, and Speakers to elevate their style, bolster their presence, and magnify their impact on the world.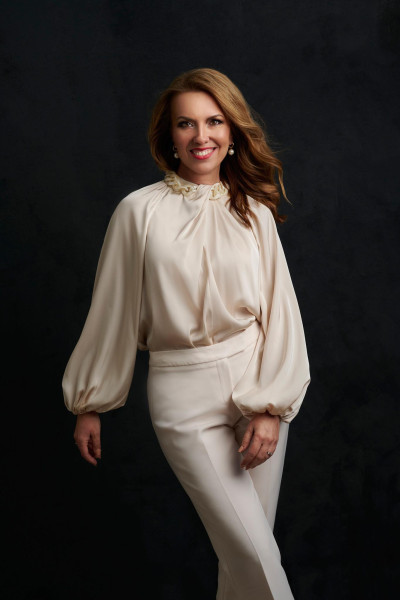 Embracing Self-Expression and Inner Wisdom
"Creating your style is not about seeking perfection or showing up to please others. Your unique style radiates from your ability to connect to your worth."
At the heart of "The Amplified Woman" program lies Kristina's unwavering belief in the power of self-expression and self-acceptance. She envisions a world where women are not only self-assured in their inner wisdom but also use it as a compass for success. By helping individuals gain confidence and clarity in their self-image, Kristina aims to facilitate the creation of a unique signature style that aligns with their brilliance.
Kristina's passion for knowledge and her ability to nurture it into practical wisdom sets her apart. Her approach is an evolution rather than a lesson, offering immediate, tangible results. Committed to excellence, she provides an elite experience to help individuals cultivate their distinct signature styles and amplify their presence and impact in the world. Through her work, she inspires individuals to reshape, rethink, and reinvent themselves.
From Adversity to Empowerment: Kristina's Journey
"Even in the most challenging times or moments of adversity, you must not lose sight of who you really are."
Kristina's journey is a testament to the transformative power of adversity. In her forthcoming book, "Inspiring Women Today," co-authored in 2020, she candidly shares her personal story, revealing the challenges she overcame to become the person she is today. Her vulnerability and openness shed light on a life filled with both triumphs and tribulations.
Despite outward appearances, Kristina's life was far from a silver spoon existence. From a young age, she learned to mask her pain and camouflage her feelings as she navigated violence and unwanted attention. The adversity she faced served as the foundation for her personal growth, resilience, and sense of self. Over time, she harnessed her vulnerabilities and weaknesses as tools for empowerment, becoming fearless in the face of challenges and adversity.
Kristina's realization that true transformation is an inside job led her to her current role as a Transformational Signature Style Strategist. Her experiences have uniquely positioned her to help women embrace their individuality and uniqueness, empowering them to stand out in a world that often pressures them to conform.
A Diverse Career Spanning Decades
"Creating your style is not about seeking perfection or showing up to please others. Your unique style radiates from your ability to connect to your worth."
Kristina's professional journey began in the late 1980s when she studied fashion, setting the stage for a dynamic career. She went on to become a Fashion Designer for the Australian Fashion Group, creating seasonal fashion ranges for national retail chains. Her talents led her to serve as a Design Room Manager for various prestigious Fashion Houses, and she eventually became a Personal Stylist.
Venturing into entrepreneurship, Kristina established her custom couture boutique, catering to high-end clientele. Her expertise also extended into education, where she became a fashion trainer and lecturer at respected training organizations, including the prestigious Academy of Design.
A Trailblazer in Empowerment
"If you can learn the mindset principles that allow you to realize that beauty is not about the surface level, it's about seeing beauty as an art form – you will forget what's holding you back."
Kristina's contributions to the fashion and empowerment industry are extensive. In addition to her "Amplified Woman" program, she serves as an Ambassador, MC, and Mentor for Rise to the Runway, a creative initiative for Emerging Creatives to showcase their art. She also mentors participants in Mastermind programs, with individuals achieving Award recognitions nationally and globally.
A Legacy of Empowerment
"Opportunities can present themselves at any time, so be ready to meet them head-on with confidence."
Kristina Savka's legacy is one of transformation and empowerment. As a Transformational Signature Style Strategist, she empowers female CEOs, Speakers, and Coaches to embrace their unique personal style and create wardrobes that not only enhance their lives but also instill hope, a sense of higher purpose, and self-propelled personal and professional growth.
Kristina's creative visionary approach to dressing for success, coupled with her unique perspective on fashion, design, and personal style, resonates with women in business worldwide. Her mission is to redefine how women in business feel about themselves, enabling them to show up as magnetic, courageous, and graceful.
About Kristina Savka
A renowned fashion expert, Kristina possesses a unique blend of style, elegance, and grace. As a transformational Stylist, Coach, and Mentor, she guides women on a journey to enhance their self-image and personal style.
With an impressive 35-year career in the fashion industry, Kristina's unwavering commitment to her diverse artistic talents is a testament to her exceptional mentorship and leadership abilities.
She consistently achieves award-winning results for her clients. At the heart of her work is the Amplified Woman Program, where Kristina leads engaging conversations that inspire professionals to express themselves authentically. Her approach combines her distinctive DNA and psychology-based methodology, incorporating spiritual, wellness, and physical elements to help individuals present a consistent image and presence for success.
Within the dynamic fashion realm, Kristina has excelled in numerous roles, including Fashion Designer, Stylist, RTO Fashion Trainer, TV Host, MC, Speaker, Model, and Camera Confidence Coach. Her vast experience fuels her passion for nurturing emerging designers and guiding future fashion leaders.
Kristina's journey reached new heights when she co-authored "Inspiring Women Today" in 2020 and introduced her Signature Program, "The Amplified Woman." Since then, she has been dedicated to sharing the essential elements required for personal elevation, empowerment, and amplification in life and business. Her commitment to creating lasting change is unwavering.
Follow Kristina Savka on social media:
Media Contact
Organization: Am Digital
Contact Person: Aashish Maru
Website: https://aashishmaru.com
Email: [email protected]
Contact Number: +91 9372386553
Address:Sayadri Niwas
City: Mumbai
State: Maharashtra
Country:India
Release id:6927
View source version on King Newswire:
Empowering Style Expert, Kristina Savka, Launches The Amplified Woman Program

Information contained on this page is provided by an independent third-party content provider. Binary News Network and this Site make no warranties or representations in connection therewith. If you are affiliated with this page and would like it removed please contact [email protected]