MandYoda, a leading player in the realm of crypto gaming, has marked a milestone with the launch of its $MAND Token, reshaping the landscape of crypto gaming.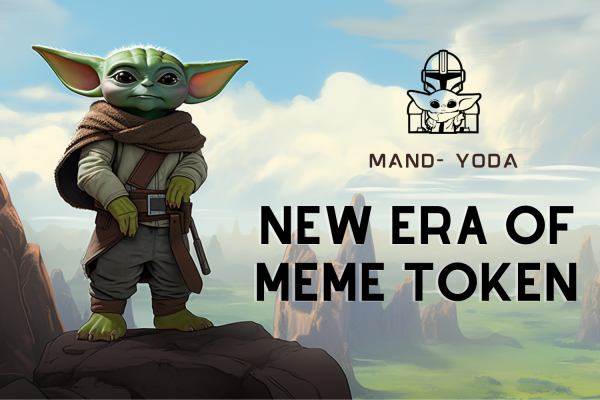 Los Angeles, California, United States, 10th Oct 2023 – To address the latest approach, MandYoda set to launch a $MAND Token that paves the way for a new era of gaming. This innovative development is poised to reshape the landscape of crypto gaming, offering a glimpse into the future of immersive experiences and digital collectibles.
The $MAND Token, a cryptocurrency native to the MandYoda ecosystem, is committed to both gamers and blockchain enthusiasts. With its launch, MandYoda demonstrates its commitment to forging a new era where gaming, blockchain technology, and NFTs (Non-Fungible Tokens) converge seamlessly.
In addition, MandYoda's $MAND Token brings several innovative features to the crypto gaming sphere. These features will redefine the way gamers interact with digital assets and engage with the wider gaming community.
The $MAND Token empowers gamers with true ownership of in-game assets. Through the use of blockchain technology, players can securely purchase, trade, and showcase their digital collectibles, ensuring their unique value is preserved.
Including more, MandYoda's $MAND Token is designed to be interoperable across various gaming platforms, fostering a sense of inclusivity and accessibility within the crypto-gaming community. Gamers can utilize their $MAND Tokens in a multitude of gaming experiences.
At its core, MandYoda builds a vibrant community of gamers and collectors. The launch of the $MAND Token signifies the company's dedication to nurturing a thriving ecosystem where enthusiasts can connect, share, and collaborate.
With $MAND, MandYoda opens doors to innovative gameplay mechanics and experiences. Gamers are able to explore novel gaming concepts and interact with NFTs in ways never seen before. As NFTs continue to gain momentum, MandYoda's $MAND Token provides a fresh perspective on the evolution of these digital assets. The company's vision extends beyond mere collectibles, emphasizing the integration of NFTs into the very fabric of gaming.
Consequently, MandYoda's $MAND Token is poised to become a frontrunner in this exhilarating space. The platform's commitment to innovation, community, and pushing the envelope is sure to attract attention from gamers, collectors, and blockchain enthusiasts worldwide.
About the Company – MandYoda:
MandYoda is a pioneering force in the world of crypto gaming, dedicated to merging the realms of gaming, blockchain technology, and NFTs. With a commitment to innovation and community, MandYoda is on a mission to revolutionize the way gamers interact with digital assets and experiences. Additionally, the launch of the $MAND Token marked the beginning of MandYoda's ambitious journey to reshape the future of crypto gaming. The company has several exciting developments and partnerships on the horizon, promising even more thrilling experiences for its growing community.
For More Information Visit https://www.mandyoda.com/
Media Contact
Organization: Mand-Yoda Inc
Contact Person: Harley Devine
Website: https://www.mandyoda.com/
Email: [email protected]
City: Los Angeles
State: California
Country:United States
Release id:6915
View source version on King Newswire:
MandYoda Launches $MAND Token, Paving the Way for a New Era of Crypto Gaming.

Information contained on this page is provided by an independent third-party content provider. Binary News Network and this Site make no warranties or representations in connection therewith. If you are affiliated with this page and would like it removed please contact [email protected]