After a 4x rise from its pre-seed sale to the recent successful close of its public round,
The Sportzchain and crypto community will soon be able to trade its native token, $SPN, on Bitrue and Coinstore soon.
Sportzchain the world's first engage-to-earn platform with more than 75k users has successfully closed its public round by partnering with several launchpads and CEXs. The platform has built a sustainable engage to earn ecosystem for sports fanatics, where they can earn, engage, invest, stake, play and redeem on a single platform.
Sportzchain is targeting a massive untapped opportunity (more than 3 billion sports fans in Asia) and is inching towards its vision to onboard 10 million users who can now consume sports in a rewarding manner. With sports token (Fan token 2.0 – Utility backed Fan Token) a new kid is entering in the huge fan token market after a giant success witnessed by the only global peer Chiliz (Socios), offering a significant opportunity for people who buy $SPN early. Sportzchain is not just stopping at Fan Token but building a 360-degree sports ecosystem with products such as gameFi, Watch-2-Earn, Fan-Commerce, Phygital NFTs and more.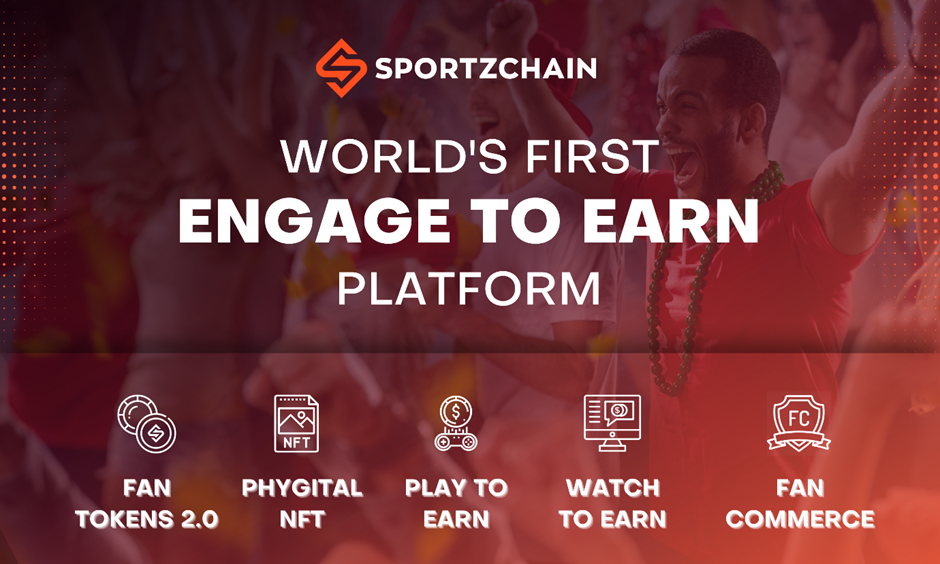 Sportzchain already has secured exclusive partnerships with more than 5 sports teams getting access to more than 1 million fans in Asia and is currently in talks with major leagues and teams in Cricket, Football, Rugby, and e-Sports across Asia and Europe. More sports team partnerships in the coming months will increase the demand for the $SPN token and benefit the medium-term and long term hodlers. Stay tuned as some big news is expected to come shortly.
The world's first and only engage-2-earn platform even in testing market conditions was able to successfully close IDO/IEO round through leading launchpad partners, including Kommunitas, Bitrue, Gagarin, Genshard, Fantomlive, Polygen, Coinstore among others. The recent success was truly attributed as Sportzchain was one of the few projects which have already had a working WebDapp with more than 75,000 users to date and they have already tested their acceptance of the engage-2-earn model through ongoing predict and win contests that people love participating in and earning rewards. This has ensured that Sportzchain is across social media and has already built a strong supporting community.
$SPN's journey to higher levels will be kickstarted by listing on two of the world's prominent crypto exchanges – Bitrue and Coinstore.  $SPN will be available to trade from 14th September 10:00am UTC.
Siddharth, founder of Sportzchain, "listing our token on Bitrue and Coinstore is an exciting step forward in building our ecosystem and community across the globe." "Our platform is nothing without our community, and having our token listed on reputable platforms lets us create an even stronger and more rewarding experience for sports fanatics as well as sporting teams while extending our international community," he added.
Further, to provide benefits for early users and hodlers of $SPN, Sportzchain has announced two rewarding programs:
Super booster staking program, where users can stake $SPN on exchanges themselves and earn up to 1000% APY in staking, and rewards in $SPN airdrops.
Trading Competition where users can buy $SPN in the first 6 hours of listing and get a 25% bonus $SPN token for their purchase and stand a chance to win up to $10,000 rewards
Further, Sportzchain has kept its promise to the community and already burned 1% of the total token, reducing the total token supply and giving confidence to existing and potential users. More burn and buyback programs are expected to be announced shortly.
About Sportzchain
SPORTZCHAIN is the world's first ENGAGE-TO-EARN (E2E) platform for sports fans powered by $SPN. We are building a 'Digital World For Fans' offering Sports Tokens (Fan Token 2.0), Watch-To-Earn, Fan Commerce, Gamefi and more. SPORTCHAIN is poised to capture the Asian sports fan market which holds more than 3.5 billion fans by rewarding them for their fan engagement. Sportzchain is a sports fan-centric platform where the aim is to provide a 360-degree fan engagement approach for sports fans to engage and earn, all powered by our native asset $SPN. In other words, whatever users do on Sportzchain platform and interact & engage with like minded fans will be rewarded with our off-chain tokens (RWRD) that can be then redeemed for $SPN, fan tokens, discounted merchandise and more. #BeTheGameChanger
Linktree: https://linktr.ee/sportzchain
Website: https://www.sportzchain.com/
Coinmarket Cap: https://coinmarketcap.com/currencies/sportzchain/
CoinGecko: https://www.coingecko.com/en/coins/sportzchain
Telegram: https://t.me/SportzchainCommunity and https://t.me/Sportzchain
Twitter: https://twitter.com/sportzchain