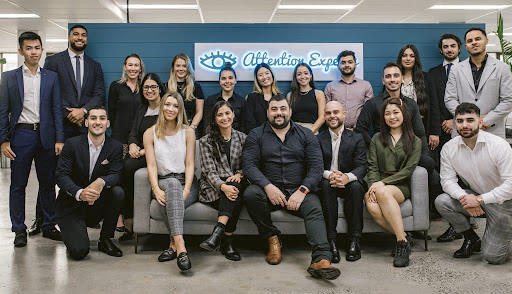 Social media is the tool you need to generate hype for your business. Nowadays, so many people use social media platforms as a search engine just as much as they use it for connecting with their friends, meaning that as a business owner, your online presence is more important than ever for converting your audience into customers.
While the potential for engagement is at an all-time high, so is the competition; with millions of people accessing social media for hours each day, and just as many brands vying for their attention. A solid product on its own isn't good enough to make it anymore. In the world of digital business, if you want to thrive instead of just survive, you need a marketing strategy that puts your brand in the eyesight of your audience, and turn their heads away from your competition.
Nobody expects you to manage these expert tactical maneuvers alone though, because the award-winning social media agency Attention Experts have made it their mission to do the heavy lifting for you, helping you to hit your goals and grow your business beyond your imagination.
Founded in 2016 by George Hawwa, Attention Experts came into existence from the building and exiting of two other online businesses that George had successfully grown, and he found himself falling into love with the practice of marketing. "I was being approached by companies from around the world for marketing consulting after they'd seen and heard what I'd done with my businesses and for my friends' projects." George explained. "It was then that I realized I could actually use these skills to help more people achieve the results they're looking for."
Attention Experts grew rapidly, recruiting the most talented digital marketers to their team and expanding their reach, kicking goals for their clients and collecting wins along the way. They expanded from their head office in Sydney, opening branches in Melbourne and Brisbane over the past two years, and working towards their first international office in London, UK for a 2022 launch.
As Attention Experts have grown, they've been able to hit some major milestones for themselves alongside the thousands of happy and successful clients they've helped, including becoming Australia's most 5-star rated social media agency, and winning the Australian Marketing Institute award for 'Best Social Media Marketing Campaign' in 2020.
Attention Experts have worked with businesses from all walks of life, leveraging their mastery of social media marketing to help small startups, local companies and even large national organizations like Channel 7; where they supported Channel 7's paid sponsor campaigns during the Tokyo Summer Olympics.
It's the holistic, data-driven advertising philosophies that enable this full service digital marketing agency to give their clients the edge they need to break their limits and secure success. Attention Experts harness every tool at their disposal, adapting to the ever-changing landscape of social media platforms with creative flair and sound psychology.
If you're ready to take control over your online presence, connect with George Hawwa and his team at Attention Experts through their website, or their Instagram, Facebook, LinkedIn, and Twitter social media pages to learn more about how you can use social media to scale your business.