"O'Kelley Legends: 2e Behind the Scenes" is an uplifting documentary that follows the story of 13-year-old Jordan O'Kelley as he brings his book of humorous short stories to the stage as a monologue show fundraiser. The film provides an insightful look into the process of creating a neurodiverse- friendly theater experience, while showcasing the importance of mentorship and family support for twice-exceptional (2e) individuals.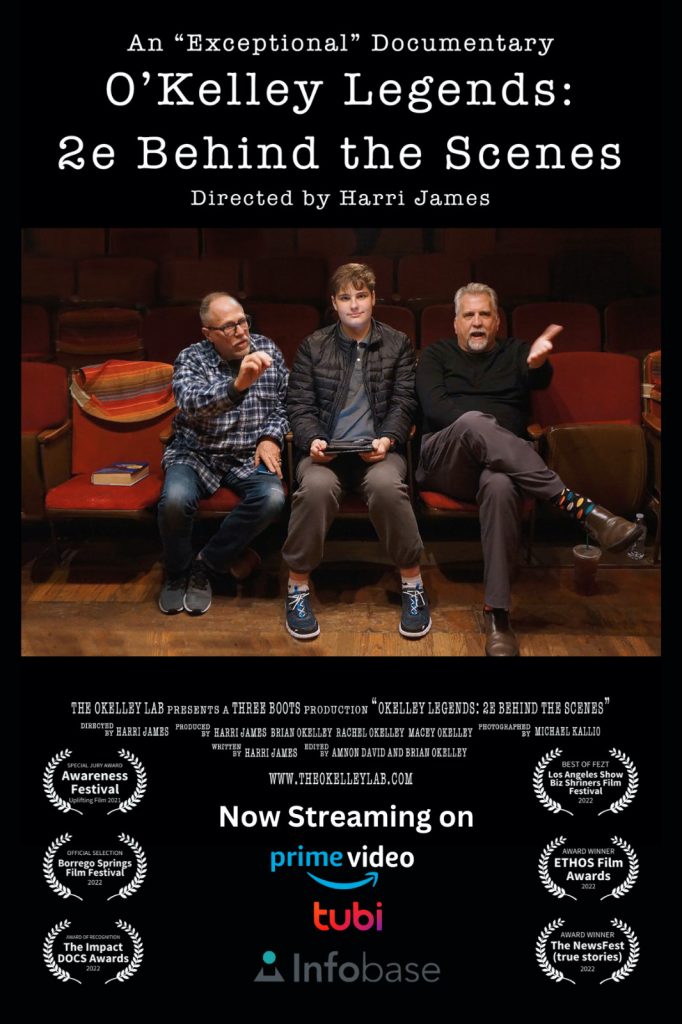 "O'Kelley Legends" invites viewers into the world of "twice exceptional" children— kids who are both gifted and disabled. At the film's center is Jordan, a gifted and autistic young writer who adapts the short stories from his book, "O'Kelley Legendary Legends of Legend," into a set of monologues to raise funds for the gifted education organization, SENG.
This unique exploration of creativity and inclusivity is streaming on Amazon Prime, Tubi, and Infobase.
At just nine years old, Jordan O'Kelley wrote a story each week for what became "O'Kelley Legendary Legends of Legend" as a creative alternative to completing weekly book reports. Fast forward four years, Jordan decided to create a monologue show based on his stories with the goal of raising funds for SENG, a nonprofit organization that supports the emotional needs of gifted individuals.
Featuring a cast of diverse and talented individuals, many of whom are twice-exceptional, the film emphasizes the low stress casting process designed to minimize the anxiety that 2e students often experience and provide an opportunity for these middle schoolers to express themselves artistically and thrive in a supportive environment.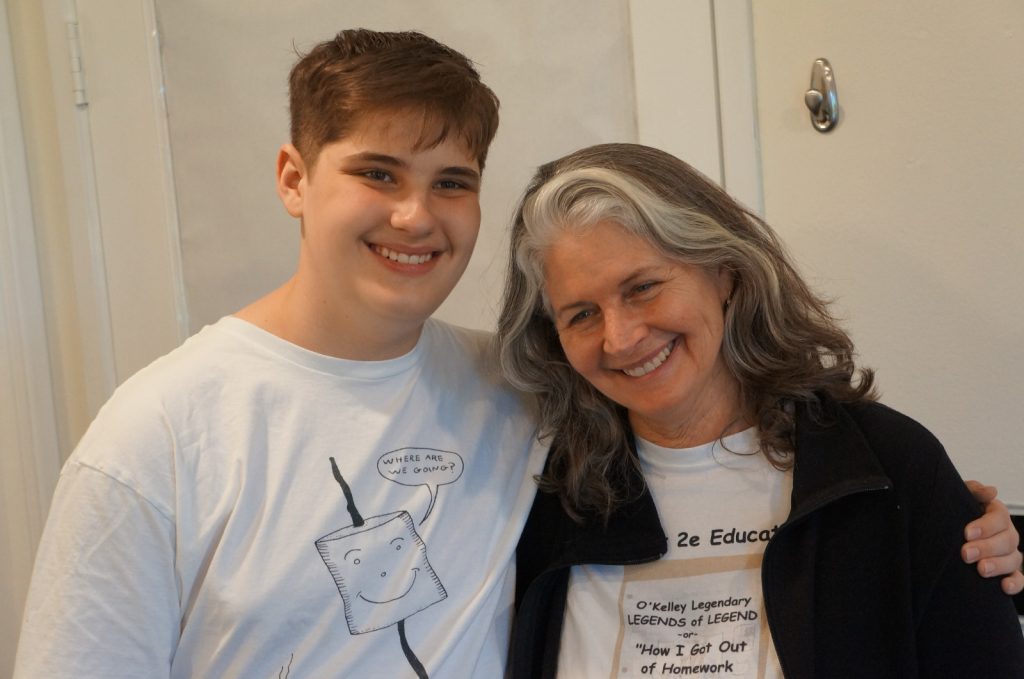 "O'Kelley Legends" is a heartwarming film that highlights the importance of mentorship, family support, and inclusivity in the arts. With its personal, home movie feel, the documentary allows viewers to connect with the cast and their journey in creating a one-of-a-kind, neurodiverse-friendly theater experience.
Putting the show together involved all of Jordan's family, aka "The O'Kelley Lab," who provided various supports to make the show a positive experience for the young actors. These included recruiting industry mentors in directing and acting, including Daniel Roebuck, Duane Whitaker, Jennifer Collins, and Bret Anthony. Other mentors included Mark Tillman- Briggle for casting and Jolene Adams for producing. Actor and mime Terry Hart worked with each actor individually and in a group, using "Mime as Therapy" to help the cast overcome anxieties and focus on their performance. The film shows the mentors leaning into the actors' strengths as they prepare for the show.
The film was also an opportunity for Jordan's younger sisters to get involved in producing the documentary. "Our roles as producers on the film just evolved naturally during the making of the film," recalled Rachel O'Kelley. This being a family affair, Rachel and her sister Macey are seen in the film organizing and assisting with the monologue show and then went on to be involved in the editing, completion, and promotion of the film.
The film's director, Harri James, commented, "I hope this film can be an inspiration to empower other autistic individuals and their families to follow their passions and embrace their differences." Harri James O'Kelley is a filmmaker, storyteller, and education advocate, who speaks at gifted education and neurodiversity conferences on parent advocacy and the importance of mentors for the neurodiverse community. Out of her passion for gifted and special needs education, Harri has also created The O'Kelley Lab with her family— a grass roots effort to promote supports, resources, and creative solutions for neurodiverse, 2e, and gifted individuals.
The film has been well received, having played in over twenty film festivals and won numerous awards, including a Special Jury Award for Most Inspiring Film at The Awareness Festival, Best of Fezt and Best Feature Documentary at the LA Showbiz Shriners Film Festival, and Best Documentary Feature at Newsfest. In addition to festival screenings, Harri and Jordan have also spoken on several panels at universities and education conferences about neurodiversity and gifted education, most recently at the California Speech and Language Conference in Anaheim.
"Presenting the film to almost 400 speech and language therapists and pathologists was exactly what I'd hope for in making the film— to reach an audience and hopefully educate them a bit about the needs of 2e students," Harri noted.
The film was also featured recently at Cal State Los Angeles during Autism Awareness Month, where Jordan, who became a college freshman at age 14 through CSULA's Early Entrance Program, was able to present the film at his alma mater. "I was glad to be able to contribute to the Office of Students with Disabilities' Autism Awareness events," Jordan stated. "The OSD has been such a crucial support throughout my college career."
Jordan continued, "Looking back to fourth grade, I thought I was being clever, coming up with a way to get out of doing book summaries. It's amazing that writing a book led to putting on a monologue show, which then became a documentary and a podcast that are resonating in the 2e community."
Gifted education expert Dr. Nicole Tetreault described the film as "a heartfelt film exploring the depths of a truly unique mind that inspires inclusion, compassion, and awareness of what is to be an original thinker."
Gifted advocate and author of "Tilt Parenting," Debbie Reber commented, "This documentary is a thoughtful and charming window into the profound strengths and flat-out awesomeness of twice-exceptional students. By highlighting 2e teen Jordan O'Kelley's journey to cast and produce a monologue show, the film highlights what's possible for 2e kids with the right support, mentoring, and perhaps most importantly, a whole-hearted belief in the powerful gifts and perspective they have to offer the world."
"O'Kelley Legends: 2e Behind the Scenes" is not only an inspiring story of creativity and perseverance, but also an engaging example of the importance of mentorship, family support, and inclusivity in the arts.
Quotes
Praise from the 2e Community
"O'Kelley Legends 2e Behind the Scenes provides an authentic and educational look at the creative process of putting on a live theatrical performance told through the eyes of autistic teen director Jordan O'Kelley, as he learns on the job. Autistic young adults and their families should definitely see this film, as it shows what personal determination along with a supportive family and community can yield in terms of creative achievement."
— Erik Linthorst, Director, "Autism Goes to College" & Writer, "Come as You Are" "Jordan O'Kelley exemplifies what it means to be neurodivergent. While many children with dueling exceptionalities struggle to find themselves, Jordan has taken his metacognitive journey to a different level and has not only found himself, but, in the process has taken his gifts to another level, as exemplified by this film. I sincerely hope that you enjoy his journey as much as we have."
— Dr. Michael Postma, President, Gifted & Thriving, LLC "I'm so grateful O'Kelley Legends: 2e Behind the Scenes is out in the world for all to see! This documentary is a thoughtful and charming window into the profound strengths and flat-out awesomeness of twice-exceptional students. By highlighting 2e teen Jordan O'Kelley's journey to cast and produce a monologue show, the film highlights what's possible for 2e kids with the right support, mentoring, and perhaps most importantly, a whole-hearted belief in the powerful gifts and perspective they have to offer the world."
— Deborah Reber, Founder of Tilt Parenting & Author of "Differently Wired" "Jordan O'Kelley is a visionary leader of the neurodiversity movement. Being both gifted and on the autism spectrum, he shares his exceptional mind and journey. O'Kelley Legends 2e Behind the Scenes is a heartfelt film exploring the depths of a truly unique mind that inspires inclusion, compassion, and awareness of what is to be an original thinker. Settle in with your coziest blanket and a bowl full of popcorn and prepare to be amazed, inspired, and enlightened by this extraordinary story and brilliant mind."
— Nicole A. Tetreault, PhD, Neuroscientist and Author of "Insight into a Bright Mind" "While twice-exceptional students face significant challenges in their social and academic lives, they are often ambitious, resilient, even fearless. O'Kelley Legends: 2e Behind the Scenes follows 13-year-old Jordan O'Kelley as he attempts to adapt his book of comic autobiographical stories, "O'Kelley Legendary Legend of Legends, or How I Got Out of Homework in the 4th Grade" (available on Amazon) into a series of theatrical monologues, starring a primarily 2e cast. His journey is illuminating, heart- warming and inspiring."
— Tom Ropelewski, Filmmaker, "2e: Twice Exceptional" & "2e2: Teaching the Twice Exceptional" "As with all projects, Jordan attacks this film with his sincere, authentic, humorous, sweet self. He considers everyone's experience and seeks to make himself vulnerable in order to learn and to teach his fellow characters in the film as well as the audience. This is a do-not-miss film for anyone living with, loving, teaching 2e, or being 2e."
— Julie F. Skolnick, M.A., J.D., With Understanding Comes Calm, LLC
Social Media:
start=true&tracking=google-feed&utm_source=google-feed