ZudgeZury Announces New AI-Powered Upgrade with ChatGPT and GPT-4 Integration and is now the only app available with real time GPT AI verses human Decision Solutions along with ChatGPT AI chat history.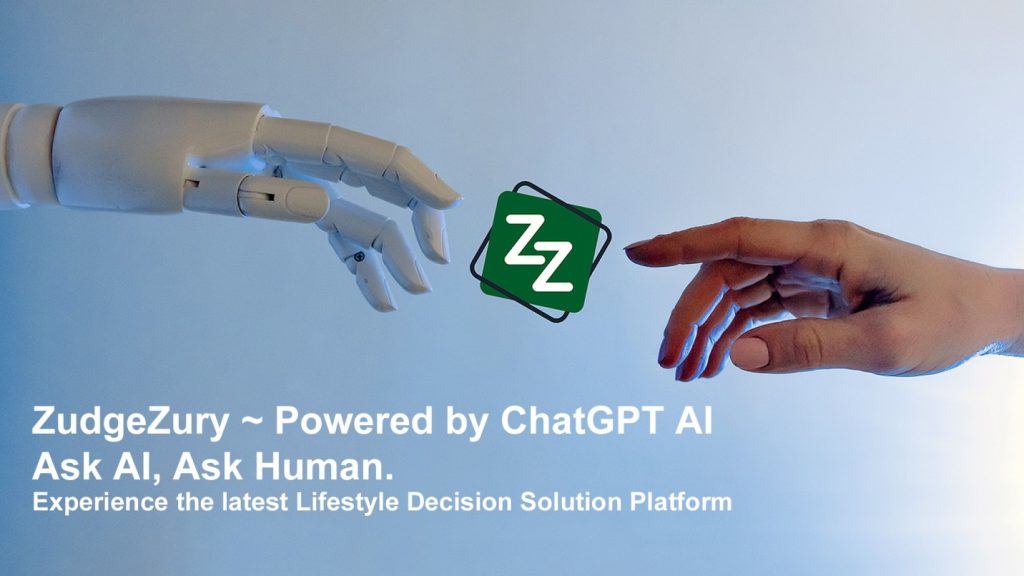 ZudgeZury, the popular real time lifestyle Decision Solution platform, has announced a major upgrade with the integration of ChatGPT AI and GPT-4 technology to ZZChat. The new upgrade promises to take the user experience to a whole new level, with more personalized and intelligent features to help users achieve their decision support and improve their lives.
ChatGPT AI is a powerful natural language processing model developed by OpenAI. It is trained on a massive corpus of text and can understand human language and generate natural-sounding responses. With ChatGPT, ZudgeZury users will be able to interact with the app in a more conversational and intuitive way, making it easier to set goals, track progress, and get personalized recommendations.
GPT-4 is the latest iteration of the GPT series of language models, also developed by OpenAI. It is expected to be even more powerful and capable than its predecessor, GPT-3, which is already considered a breakthrough in natural language processing. With GPT-4, ZudgeZury will be able to offer even more advanced features, such as intelligent scheduling, predictive analytics, and personalized coaching.
"We are thrilled to announce this new upgrade to our users," said Jin Lee, CEO of ZudgeZury. "With ChatGPT and GPT-4 integration to ZZChat, we are taking ZudgeZury to the next level, offering a more intelligent, personalized, and human-like experience. Users can compare and contrast AI responses with Real People in the App.   We believe this will help our users achieve their daily goals more easily and enjoyably."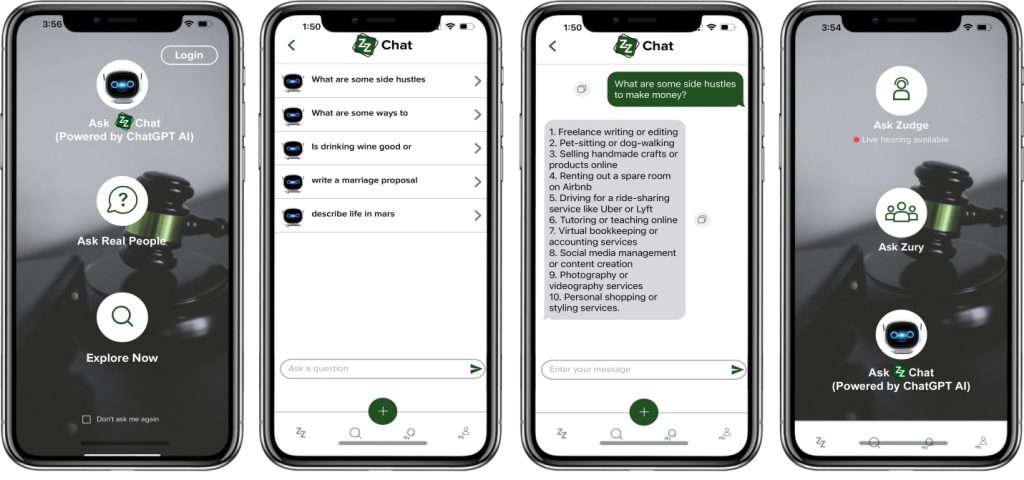 The new upgrade is expected to be rolled out in the coming weeks to all platforms, and will be initially available to all ZudgeZury users on both iOS and Android platforms.
About ZudgeZury
ZudgeZury is a real time lifestyle Decision Support platform. It is designed to be simple, intuitive, and effective, with a user-friendly interface and powerful features. ZudgeZury is used by thousands of people around the world to improve their lives and achieve their goals.
ZudgeZury is powered by ChatGPT AI combined with Human Deliberation.   Ask AI or Real People any questions or concerns and ZudgeZury will deliver a Real Time Decision Solution for your lifestyle.
ZudgeZury is built on the fundamental ChatGPT AI algorithm along with Consumer Behavior and Psychology. Combining the key elements of Maslow and Loss Aversion theories, our founder is able to design and program an app that appeals to hedonic needs and aid in decision making by community collaboration.
ZudgeZury allows the user to be able to address their daily concerns in multiple categories.  Users can ask ChatGPT AI and at the same time have either a panel of category Zury experts or a Zudge present a suggested Verdict. Users are able to resolve issues real time related to Dating, Family, Shopping, Travel, Entertainment, Investment, Education and many more daily areas of concerns.  AI or Real Humans, ZudgeZury has Decision Solutions on all platforms.
While helping others in the community, all users are also given social recognition and rewards. All users are Zury members and can rise up in social ranks to being a recognized Zudge. Zudges are able to conduct Live Hearings and at the same time earn rewards and Social Ranks.

The User Experience
Users have decision making dilemmas every day. From dating to family matters, shopping to retirement matters or professional and recreational decision making. We will have consumers ZUDGEZURY their decisions!!
The ZUDGEZURY process
Users can ask ZZChat (powered by ChatGPT AI) any concerns or questions.
Obtain the AI response and compare with Human Responses
Users can also choose a Zury or Zudge
Present Concerns and Options
Have a Real Time Hearing or Delayed Evaluation
Review and Share Summary Verdict
Obtain a Zertificate
The Zury Experience
Users start as a social Zury and help the community with real time collaborative Verdicts. All Users start as a Trainee Zury and earn their way up the ranks of being an Assistant Zury, an Associate Zury and finally a Citizen Zury.
The Zudge Experience
An experienced Zury can now be promoted to be a social Zudge. Now, they can share their expertise, gain recognition, have fun, and generate an income based on hosting Live Hearings
The Zudge Process
A Zudge is able to conduct Real Time Live Hearings. A Zudge can price the hearings and earn Tokens and Rewards. These can be exchanged for fun and rewarding items in the ZudgeZury Shop. Trainee Zudges earn their right to be promoted through quality ratings and timely responses. The next ranks are State Zudge, Federal Zudge and Supreme Zudge. A Celebrity Zudge status is awarded to Influencers with substantial followers while any user can try out being a Supreme Zudge by buying a Zudge Pass.
For more information, please visit the ZudgeZury website at https://www.zudgezury.com or inquire at [email protected].   The latest app v2.0 is available in the Apple App store and Google Play Store.