Chainalysis is the leading company in crypto assets-related crime investigations and customer protections

Collaboration will enhance transparency and trust of the unagi omnichain ecosystem 
New York City, 27th October 2023, ZEX PR WIRE, The WEMIX Foundation has entered into a strategic partnership with Chainalysis, the blockchain data platform, to ensure high transparency and security for the unagi (Unbound Networking & Accelerating Growth Initiative) omnichain ecosystem that WEMIX is developing.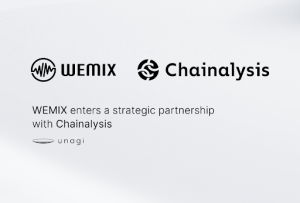 Chainalysis provides data, software, services, and research to government agencies, exchanges, financial institutions, and insurance and cybersecurity companies in over 70 countries. Its data powers investigation, compliance, and market intelligence software that has been used to solve some of the world's most high-profile criminal cases and grow consumer access to cryptocurrency safely.
WEMIX will screen wallet addresses, reduce potential exposure to illicit activity including money laundering, and run a comprehensive risk and compliance program through the Chainalysis data platform without impacting user experience. In addition, the network is proactively engaged with the Chainalysis Incident Response program so that if an incident such as a hack were to occur, it will be positioned to trace and recover stolen funds immediately.
The two parties will collaborate to secure storing and trading of assets so that the transparency and reliability of the WEMIX3.0 mainnet and unagi's omnichain ecosystem can be heightened even further.
Editors' Notes:
The WEMIX Foundation is dedicated to the decentralization, security and long-term growth of the WEMIX3.0 ecosystem.

unagi (

https://unagi.io

) aims to achieve cross-chain interoperability by building an omnichain connecting multiple blockchains that will facilitate the inter-chain flow of data and assets. 

Users can seamlessly conduct transactions, access dApps and protocols, plus manage and move assets between blockchains.

Unagi currently supports 8 blockchains (WEMIX3.0, Ethereum, Polygon, Arbitrum, Optimism, Avalanche, BNB Smart Chain, Kroma).
About WEMADE
A renowned industry leader in game development with over 20 years of experience, Korea-based WEMADE is leading a once-in-a-generation shift as the gaming industry pivots to blockchain technology. Through its WEMIX subsidiary, WEMADE aims to accelerate the mass adoption of blockchain technology by building an experience-based, platform-driven, and service-oriented mega-ecosystem to offer a wide spectrum of intuitive, convenient, and easy-to-use Web3 services. Visit www.wemix.com/communication for more information.