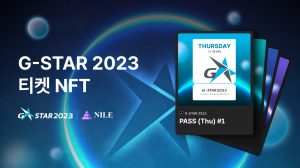 G-STAR 2023 event ticket NFTs set new Korean domestic game industry record

2023 edition is biggest ever in terms of booth numbers 
Seoul, South Korea, 25th October 2023, ZEX PR WIRE, NILE, the NFT and DAO marketplace developed by leading Korean blockchain gaming company Wemade, will introduce first-of-its-kind Real World Event NFTs at the upcoming G-STAR 2023, the biggest gathering of gaming enthusiasts and fans from around the world.
The event NFTs represent the latest milestone for NILE (shorthand for "NFT is Life Evolution) as it continues to focus on expanding the NFT ecosystem. Earlier this year, NILE successfully attracted users globally with the launch of the world's first NEITH NFT, which offers covenant value that can be leveraged as collateral. 
The G-STAR 2023 event ticket NFTs are dynamic in nature, vividly conveying the changes of NFTs in real-time during the event's opening, closing, and entry. Significantly, the new event ticket NFTs will set a new record in the history of the Korean domestic game industry. To mark the occasion, Wemade will be giving away exclusive gifts and special items to G-STAR 2023 event ticket NFT holders at the event.
Only 300 of the NFTs have been minted and are exclusively available through NILE, including 50 each on Day 1 and 2 and 100 each on Day 3 and 4. Ticket sales start at 12 noon local Korea time on Wednesday October 25, 2023, while stocks last. More details on NILE: https://www.nile.io/marketplace/GSTAR?tab=ticket.
Wemade is returning as the main sponsor of G-STAR 2023, which will be the biggest ever with 3,250 booths, 10% higher than last year (2,947) and beating the previous record of 3,208 booths set in 2019. Wemade will have 200 booths in the B2C section and 30 booths in the B2B section, and is also organizing various activities throughout Busan City that fans can participate in.
Confirmed speakers at G-Star's main conference event, G-Con, include Wemade CEO Henry Chang, former Sony Interactive Entertainment CEO Shuhei Yoshida, former Weekly Jump manga magazine editor Kazuhiko Torishima, Ha Jung-woo, the head of AI Innovation and Naver Cloud.
Other key highlights include G-STAR's first "Subculture Game Festival." Subculture refers to games that feature Japanese anime-style girl characters.
Event Details 
Dates: Thursday November 16 to Sunday November 19 2023
Venue: BEXCO Exhibition Hall 1 (55 APEC-ro, Haeundae-gu, Busan, South Korea)
Theme: Expand your Horizons
The annual game, trade, and all-round show for the video game industry is organized by the Korea Association of Game Industry and managed by the G-STAR Organizing Committee and Busan IT Promotion and supported by the Ministry of Culture, Sports, and Tourism (MCST).
More information: official website of G-STAR 2023. 
About WEMADE
A renowned industry leader in game development with over 20 years of experience, Korea-based WEMADE is leading a once-in-a-generation shift as the gaming industry pivots to blockchain technology. Through its WEMIX subsidiary, WEMADE aims to accelerate the mass adoption of blockchain technology by building an experience-based, platform-driven, and service-oriented mega-ecosystem to offer a wide spectrum of intuitive, convenient, and easy-to-use Web3 services. Visit www.wemix.com/communication for more information.