Bangalore, India — UniLend Finance, a leading decentralized finance (DeFi) protocol is thrilled to announce the launch of its new wrapped governance token, UFTG (UniLend Finance Governance Token) as the revolutionary protocol approaches closer to Governance launch on 4th September.
This groundbreaking token signifies UniLend's commitment to community-driven decision-making and plays a pivotal role in making a decentralized future. However, it's crucial to clarify that UFTG is a wrapped version of UFT; we are not releasing or transitioning to a new token.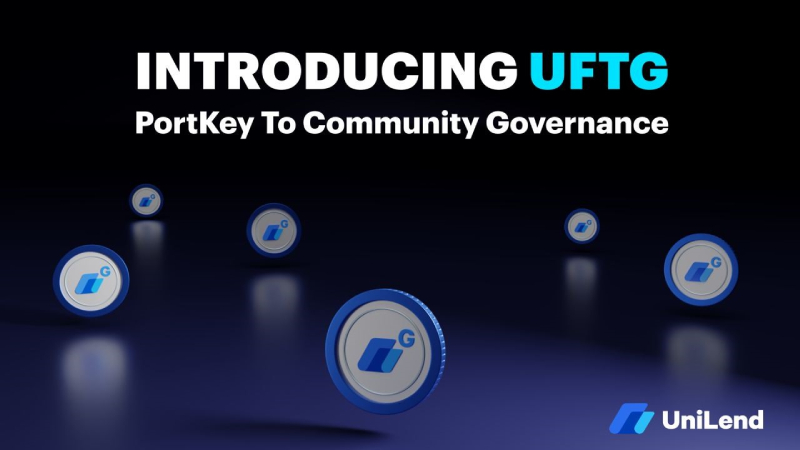 UFTG: A Gateway to Empowering Governance Participation 
UFTG is the governance token that wraps native UFT tokens, enabling users to actively participate in UniLend governance processes. With a seamless 1:1 swap mechanism between UFT and UFTG, UFTG is the cornerstone of our Governance model, offering the key to the door of active community engagement in shaping the future of UniLend.

UniLend recognizes the importance of decentralization and inclusivity in the governance process. With the introduction of the UFTG token, the protocol aims to empower its community members and provide them with a direct voice in determining key parameters and improvements.
Key highlights of the UFTG token and its role in community governance include:
1. Voting Power: UFTG holders will have voting power proportional to their token holdings. This ensures that decisions are made collectively, reflecting the consensus of the community.
2. Governance Proposals: UFTG holders can propose and discuss changes, upgrades, and new features within the protocol. This encourages active participation and fosters a collaborative environment for community-driven decision-making.
3. Protocol Evolution: UFTG holders can actively participate in the governance process, enabling them to become an integral part of the community-driven decision-making process for the UniLend evolution. Their insights, expertise, and contributions will play a vital role in guiding the development of new features and ensuring that the protocol remains at the forefront of innovation.
4. Boosting UFT utility: UFTG amplifies the importance of the UFT token by expanding its role beyond lending and borrowing, now also making it a key player in the decision-making process within the governance framework.
5. Alignment with DeFi principles: UFTG represents the key ideas of decentralized finance, advocating for decentralization, transparency, and community engagement. This commitment ensures UniLend stays aligned with DeFi values. By being part of UFTG, you actively contribute to UniLend's expansion and advancement.
"We are thrilled to introduce the UFTG token as a catalyst for community governance," said Chandresh Aharwar, CEO at UniLend Finance. "UniLend Finance believes in the power of decentralization and giving our community members a direct say in shaping the future of the protocol. The UFTG token will serve as a cornerstone of community-driven decision-making, strengthening the UniLend Finance ecosystem."
To celebrate the launch of the UFTG token and encourage community participation, UniLend has planned a series of exciting initiatives, including governance reward programs and exclusive perks for UFTG holders.
UniLend Finance remains committed to fostering an inclusive and collaborative environment where community members can actively contribute and shape the protocol's future. The launch of the UFTG token marks a significant step towards realizing this vision.
For more information about UniLend and the UFTG token, please visit https://unilend.finance/ or join the UniLend community on social media channels:
Twitter: https://twitter.com/UniLend_Finance
Telegram: https://t.me/UniLendFinance
Medium: https://medium.com/unilend-finance
LinkedIn:https://www.linkedin.com/company/unilend-finance
About UniLend Finance
UniLend Finance is a leading decentralized lending and borrowing protocol for ERC20 tokens, focusing on accessibility, security, and user-centric features. With a strong emphasis on community governance, UniLend aims to redefine the DeFi landscape and make decentralized finance accessible to a wider audience. UniLend aims to develop the futuristic base layer for all DeFi applications. 
Media Contact:
Contact name: Ayush Garg
Email: [email protected]