Enclave FX, a leading name in the world of forex brokerage and trading platforms, is proud to announce that its CEO, Mr. Pratik M Shah, has been recognized as one of the Top 50 CEOs in the Middle East Financial Market by SmartVision. This prestigious accolade celebrates Mr. Shah's exceptional leadership, vision, and contribution to the financial industry in the Middle East.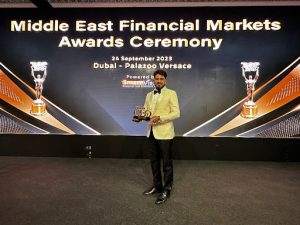 SmartVision, a reputable authority in financial services evaluation and recognition, carefully assessed Mr. Shah's leadership qualities, his role in driving Enclave FX's success, and his impact on the broader financial market in the Middle East. Under Mr. Shah's guidance, Enclave FX has achieved significant growth, established itself as a trusted brand, and continued to innovate in the financial sector.
"We are delighted to congratulate Mr. Pratik M Shah on being named one of the Top 50 CEOs in the Middle East Financial Market," said spokesperson at SmartVision. "Mr. Shah's leadership has been instrumental in shaping Enclave FX's journey and success. This recognition reflects his commitment to excellence and his dedication to delivering top-tier financial services in the Middle East."
Mr. Shah's visionary approach to leadership has led Enclave FX to new heights, with a focus on customer satisfaction, innovation, and ethical business practices. His leadership has been particularly notable in the company's efforts to provide clients with transparent and reliable forex brokerage and trading solutions.
As a leader in the financial industry, Mr. Shah's dedication to integrity, transparency, and innovation aligns perfectly with Enclave FX's mission to empower traders and investors with the tools they need to succeed in the forex market.
Mr. Shah's recognition by SmartVision adds to the growing list of accolades for Enclave FX, which recently received the Top 100 Trusted Financial Institution Award from the same organization.
For more information about Mr. Pratik M Shah and Enclave FX's commitment to excellence in the financial market, please visit https://enclavefx.com/ 
About Enclave FX:
Enclave FX is a leading forex brokerage and trading platform known for its commitment to providing innovative, transparent, and customer-centric financial services. The company's CEO, Mr. Pratik M Shah, is recognized for his exceptional leadership in the financial industry. Enclave FX empowers traders and investors to achieve their financial goals with integrity and transparency.
Media Contacts:
EnclaveFX Ltd
Official Website: https://enclavefx.com/ 
PR or media enquiries : [email protected]