Las Vegas, Nevada , US — Soeleish Las Vegas Magazine Announces "Chef Del Valle" as May 2023 Cover Feature Entrepreneur. Soeleish Las Vegas Magazine is a one-of-a-kind magazine. SLVM is the first magazine dedicated to small business owners and entrepreneurs in Las Vegas. It's purpose is to recognize the efforts and successes of Las Vegas small business owners and entrepreneurs. SLVM is a monthly magazine covering beauty, business, lifestyle, information, and technology. Soeleish Las Vegas Magazine is Las Vegas' 1 magazine for small business owners.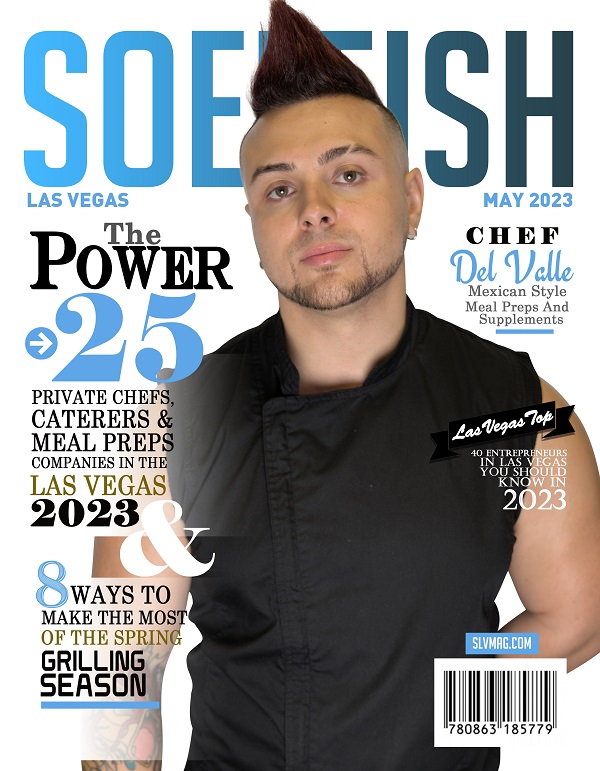 Chef Del Valle — born and raised in Las Vegas locals, we are the best underdog fitness company in town! Our goal is to be there for the community, to bring great health, positive lifestyles, motivation, and donations to those in need. With years of consistency, we are now commercial and operate out of VitaminHUB (Sahara/Nellis 2208 S. Nellis Blvd 89104) & are well on our way to becoming the one and TRUE one-stop-shop. We hope to continue expanding so we can greatly expand our donations to the elderly and children in need.
What we have to offer:
Meal Preps, Vitamins, Minerals, Supplements, Body-sculpting, Contest Prep, Body Transformations, Protein Smoothie bar & a beautiful dine-in area for our healthy Italian/Mediterranean fusion menu!
Experience:
With years of knowledge in nutrition as a Certified Dietary Supplement Specialist, Sous Chef & Bodybuilding competitor, we mashed everything together & became FITPACKMEALPREP.
Las Vegas Mexican Meal Prep Service
• 15% off supplements w/meals
• Supplements • APPOINTMENT ONLY
Certified Dietary Supplement Specialist
Instagram: 
@fitpackmealprep
Instagram: 
@vitaminhub.lv
Media Contact
Company Name: Soeleish LLC
Contact Person: Rebecca L. Bennett
Email: [email protected]
Phone: 702-721-9788
Website: https://slvmag.com