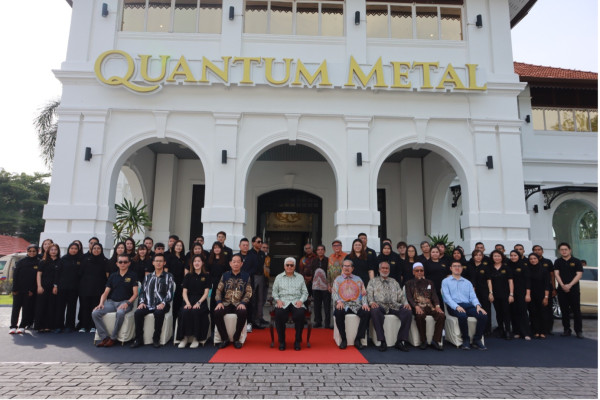 Georgetown, Penang, Malaysia, 12th Aug 2023 – Rose Charities Malaysia, in collaboration with Quantum Metal Sdn Bhd, orchestrated a stirring event aimed at distributing 1000 Smiles & Cheers gift hampers to the vulnerable B40 and homeless communities in Penang. The event stands as a beacon of unity and the epitome of humanity, championing compassion and solidarity.
YouTube Video: https://www.youtube.com/watch?v=dnhRUw3428g
The President of Rose Charities Malaysia, in his address, shed light on the overarching sentiment: "In a world rife with challenges, the power of a simple smile and cheer remains unparalleled. It's these gestures that uplift spirits, instill hope, and catalyze transformation. Today, we bear witness to this very magic."
The event was graced by several distinguished individuals, including Tuan Yang Terutama Tun Dato' Seri Utama Ahmad Fuzi Bin Haji Abdul Razak, and other noted patrons. The President further highlighted the resilience of the beneficiaries, emphasizing their pivotal role in the community and underscoring the necessity of respecting every individual's life.
Critical to the event's success was the unwavering support from sponsors and donors. Dato Lim Khong Soon, Founder and Chairman of Quantum Metal Sdn Bhd, was prominently recognized for his magnanimity. His dedication, complemented by his impeccable integrity, honesty, and loyalty, was paramount in realizing the event.
The President lauded Tun Ahmad Fuzi for his unmatched sincerity and integrity, solidified by his distinguished background in diplomacy and wide recognition in international relations.
The event signifies not an end but a continuation of the journey towards fostering a more equitable society. Rose Charities Malaysia, driven by their unwavering mission, seeks to uplift and empower the vulnerable, inviting the community at large to participate in sculpting lasting change.
Paying tribute to the event's execution, the President extended his heartfelt gratitude to the project organizing chairlady, Baby Goh, and her indefatigable team of volunteers. Their meticulous efforts, combined with the diligence of the staff from Quantum Metal Sdn Bhd, ensured flawless execution, matching military precision.
The President concluded, "Today, as we stand united in our endeavor, let's pledge to further the spirit of empathy and kindness. Let the echoes of today's Smiles & Cheers reverberate in our daily actions, ensuring a brighter, inclusive future."
Echoing the sentiments, another prominent speaker emphasized the quintessence of community support and collaboration. Expressing gratitude towards the sponsors, organizers, and volunteers, he remarked, "Each contribution, irrespective of its size, holds the potential to effect monumental change in someone's life."
With a call to sustained community engagement and an aim to etch an enduring legacy of service, the message was loud and clear – collective action can craft a brighter, fairer future for everyone.
The event concluded with a resonating sentiment of appreciation towards all stakeholders, especially His Excellency Tun Dato Seri Utama Ahmad Fuzi bin Haji Abdul Razak, reinforcing the unwavering community spirit and the boundless capacities of compassion and care.
About Rose Charities Malaysia: Rose Charities Malaysia is a renowned charitable organization committed to supporting the vulnerable and marginalized sections of society. With a firm belief in the power of collective action, they strive to make a significant difference in the lives of those they serve.
About Quantum Metal Sdn Bhd: Quantum Metal Sdn Bhd, a titan in the metal industry in Malaysia, has been dedicated to excellence and innovation for many years. With a robust foundation built on integrity, quality, and service, they've established a sterling reputation not only for their high-grade products but also for their commitment to social responsibility. By forging strategic partnerships and engaging in transformative community projects, Quantum Metal showcases their unwavering belief in uplifting societies and fostering sustainable growth. Their collaboration with Rose Charities Malaysia for the 1000 Smiles & Cheers gift hampers distribution is a testament to their broader vision of corporate responsibility and community betterment.
Media Contact
Organization: Quantum Metal Malaysia
Contact Person: Dato Lim Khong Soon
Website: https://www.quantummetal.com.my/
Email: [email protected]
City: Georgetown
State: Penang
Country: Malaysia
Release Id: 1208235318
The post Rose Charities & Quantum Metal Collaboratively Uplift B40 and Homelessness Community in Penang with 1000 Smiles & Cheers Gift Hampers appeared first on King Newswire. It is provided by a third-party content provider. King Newswire makes no warranties or representations in connection with it.

Information contained on this page is provided by an independent third-party content provider. Binary News Network and this Site make no warranties or representations in connection therewith. If you are affiliated with this page and would like it removed please contact [email protected]