Smart contract support has long ceased to be a unique selling point and has become the standard in the blockchain sector. The intelligent contracts are not only a requirement for access to applications in the field of decentralized finance (DeFi). The program codes also act as an entry ticket for the NFT market. IOTA is also trying to find a connection to these areas. After the IOTA Foundation presented a first alpha version in March, it is now announcing the release of the fully functional Smart Contract beta version, which aims to stand out from the competition in terms of scalability, interoperability and fees.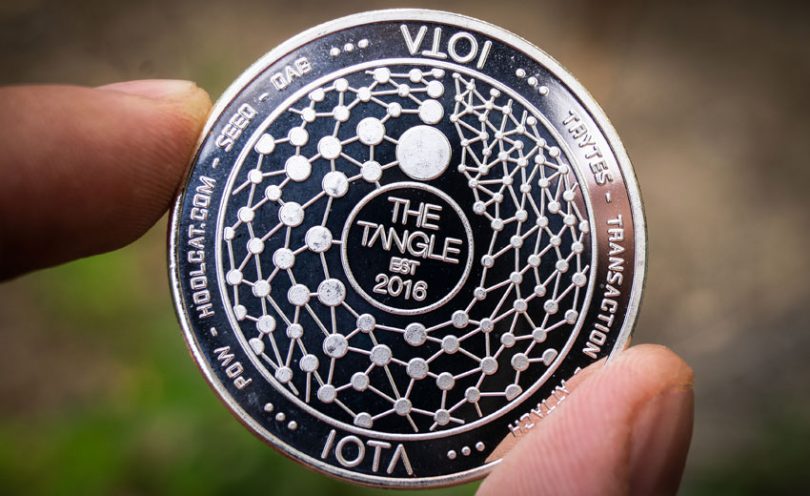 Smart contracts for free?
The time has come: The IOTA Foundation has launched the beta version for smart contracts, which means that users can now program and execute their own "intelligent contracts" for the first time. This opens the doors for the IoT network to a fertile DeFi and NFT ecosystem, which, despite horrific fees and obvious scaling deficiencies, is still dominated by Ethereum. The IOTA Foundation relies on multilingualism in its solution: In addition to Ethereum Solidity, which provides a connection to the Ethereum Virtual Machine (EVM), Go and Rust are also available as programming languages.
IOTA Smart Contracts offer the same functionality as Ethereum by directly supporting the Ethereum Virtual Machine and every smart contract written in Solidity as well as Rust and Go. Executing an existing ETH-based smart contract is practically effortless. Porting Solidity-based smart contracts involves little to no effort.
Another criterion is likely to be decisive for users: the fees. IOTA relies on a flexible price model. Unlike its big competitor, users can set their own execution fees, with smart contracts being free of charge by default. Overall, this should create higher incentives for lower costs, as Dominik Schiener explains:
IOTA's base layer fee is zero and the fee for executing smart contracts can also be zero. Anyone who wants to earn money and is allergic to exorbitant fees will find our offer very appealing .
Free travel in multichain traffic
In addition, IOTA is trying to step out of the shadow of Ethereum with a higher degree of scalability – and seems to be a tip ahead in doing so. Because the Internet of Things network has already integrated the sharding function, ie "splitting" into several sub-networks. This creates a multi-chain network in which several blockchains – subnetworks that are responsible for executing smart contracts – run parallel to one another and dock on the Tangle . Schiener said:
IOTA is scaling way beyond the capacity limit that Ethereum is currently suffering from. We offer parallel, composable execution of smart contracts in multiple chains, while we have no transaction fees for the baselayer and allow fully configurable fees for the execution of smart contracts.
Unlike Ethereum, IOTA smart contracts are executed outside of the baselayer off-chain on a second-layer protocol. This has the advantage that only a subset of nodes, which at IOTA form so-called committees, have to confirm the smart contracts. This offers significant efficiency advantages. Since the consensus is achieved independently of the baselayer, smart contract applications with IOTA lead to a lower network load than with Ethereum.
Assistance and fine tuning
So that the whole thing works without IT knowledge, the beta version has an integration of a smart contract schema tool, which should enable programming according to the modular principle. Standard protocols can thus be generated automatically. Users only have to specify the desired "functionality" that the smart contract should carry out. The schema tool then creates and tests the corresponding boilerplate code.
The IOTA Smart Contracts beta version now invites you to experiment on the IOTA 2.0 DevNet. "Everyone who is interested in the development of IOTA Smart Contracts already has everything they need with this release," explains Dominik Schiener. The next step is the connection to the IOTA mainnet. The IOTA mastermind did not want to reveal when that would happen. "But in general, we don't expect fine-tuning and improvements to take long."
Market Prediction for IOTA: Taking an Expert Helpline
With a market capitalization of $6,086,761,352 and a trading volume of $505,014,668. IOTA has a lot to surprise investors. IOTA has to its discredit being the slowest and to its credit being the consistently growing cryptoasset nomenclature. The founders of IOTA are highly optimistic that being a leader the mass adoption of IOTA has a lot of promises to behold for its fans.
Stating the bullish scenario is expected to continue, many technical wizards opine as below:
Based on our forecasts, a long-term increase is expected, the price prognosis for 2026-04-25 is 4.548 US Dollars. With a 5-year investment, the revenue is expected to be around +109.97%.Wallet Investor
According to redditors, IOTA might record short term as well as long term rally and the price may reach $3 mark end of 2021.Reddit Community
We expects the price of IOTA to reach $2.53390 by the end of the year, after increasing in value month-on-month for the duration of 2021.Trading Education
The IOTA price is forecasted to reach $1.7 by the beginning of 2021. The expected maximum price is $2.44, minimum price $1.66. The predicted average price of IOTA by the end of 2021 is $1.95.Trading Beasts
According to the current price momentum, IOTA will mark tremendous growth till 2022. Going by predictions, IOTA will end up slightly higher, by end of 2024, it may cross $2.48 mark.Long forecast
In last year, IOTA completed a good number of projects; it will also work on many upcoming projects in the future, hence, an all-around bullish prediction of $9.847 by the end of 2025.CoinSwitch
IOTA price might trade in the range of $4.21 – $4.40 by the end of 2025.Libertex
As per PrimeXBT, IOTA could show massive head and shoulders triple bottom and for the short-term, it might trade around $2.21 but later, it can mark bullish momentum and retest its previous ATH around $25 over the next five years.PrimeXBT
We believe that IOTA price might surge upwards in the upcoming years and reach $5.627 by 2023.Crypto Ground
IOTA seems to be showing positive syndrome. The bullish trend will push it up like other crypto giants too. It may roughly be up to $3.46 and up to $5.3 in 1 yr and 3 yr respectively.Digital Coin Price
IOTA Price Prediction 2021-2022
Just to be in tandem with optimistic evangelists, if we consider that the price of IOTA will reach the moon by 70% in the year 2021, it is still unlikely as the Covid-19 vaccine should be available to a common man only by mid-2021. With an increase in value on a daily basis, MIOTA price stands around $2.22 with a circulating supply of 2,779,530,283 MIOTA. The currency has a market cap of $6,086,761,352.
Volatility is the inherent attribute of the IOTA coin and so any sort of far-fetched price prediction would be an uphill task. However, going by the expert price forecast and market sentiments, the mood looks pretty positive.
Keeping also the nascent features of MIOTA being easy to store and other DLT driven environmental advantages, one can consider that IOTA crypto would be pivotal to the technological advancement of the ledger database for scalability and storage. Also keeping in perspective how IOTA shares the logic and database of different devices that collectively run it, it makes the transactions more reliable and efficient. This might drive the IOTA adaptability rate and increase its valuation to around $4 by the end of 2021.
IOTA Price Prediction 2023-2025
Also if the IOTA price continues to perform dramatically and consistently where it stands today, firm and tall, surely by the end of 2023, the IOTA price is predicted to reach its max price of $6. IOTA price prediction for the next five years might even be a game-changer rewriting history surging to $12. As per the IOTA Foundation statement made to the media, "IOTA is going to emerge as a rising sun outshining the latest innovations in the blockchain technology. IOTA might surpass everybody's expectations reaching daunting heights of $15 by 2030."