P2P cryptocurrency exchanges are gaining popularity due to their advantages over centralized exchanges, such as lower fees and more privacy.
Wilmington, Delaware, United States, 14th Sep 2023 –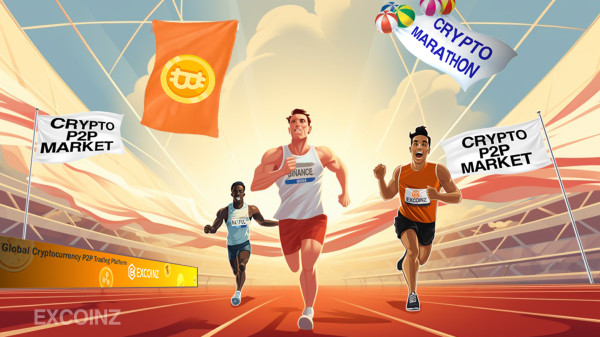 The peer-to-peer (P2P) cryptocurrency market is experiencing a surge in activity, with multiple exchanges competing for leadership, and this growth is driven by the growing popularity of cryptocurrencies and growing demand for decentralized trading platforms.
The P2P exchange allows traders to buy and sell virtual currency directly without a broker, which provides various benefits such as privacy, security, and strengthening transaction control, and P2P exchanges often have lower fees than centralized exchanges.
Due to these advantages, P2P exchanges have recently become more popular, and a number of major exchanges, such as Binance, Excoinz, and Paxful, are launching P2P trading platforms that offer a variety of features and services, making them attractive to both novice and skilled traders. In particular, Excoinz's aggressive promotion in Asia is receiving positive responses. This is because the commission is only 1%, so ordinary customers like it, and good commissions are paid to recommended people. In addition, Excoinz continues to strengthen its legal team to conduct ethical management, and Manila, where Excoinz's Asian general headquarters is located, is also recruiting customer center staff.
P2P exchanges are competing to take part of the growing market, and exchanges are increasingly offering competitive rates, fees and features to attract traders. This competition is beneficial to traders because it reduces costs and broadens choices.
The growth of the P2P cryptocurrency market is expected to continue in the future, and demand for decentralized trading platforms is expected to increase as cryptocurrencies are widely adopted. P2P exchanges are well positioned to meet this demand because they offer many advantages over centralized exchanges.
Media Contact
Organization: Excoinz Inc.
Contact Person: Wade Berry
Website: https://www.excoinz.com
Email: [email protected]
Contact Number: 13026659899
Address: 14 Wilmington, DE
City: Wilmington
State: Delaware
Country: United States
Release Id: 1409236372
The post EXCOINZ, a P2P platform that is gaining further popularity as exchanges vie for dominance appeared first on King NewsWire. It is provided by a third-party content provider. King Newswire makes no warranties or representations in connection with it.

Information contained on this page is provided by an independent third-party content provider. Binary News Network and this Site make no warranties or representations in connection therewith. If you are affiliated with this page and would like it removed please contact [email protected]