April Showers and Afro Unicorn® have become an inspiration for many women and minorities who are looking to break into the business world.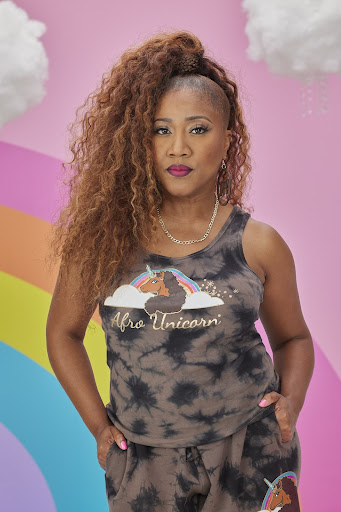 United States, 4th Oct 2023 – The world of business is changing, and it's changing fast. Over the past few years, we've seen an explosive growth of women-owned businesses and a surge of black-owned businesses. However, there are still significant barriers that keep many women and minorities from achieving success in entrepreneurship. But every now and then, a truly inspiring business woman breaks through those barriers and blazes a trail for others to follow. This is the story of April Showers, the first black woman to own a licensed character brand sold in major retailers across the country, and her creation: Afro Unicorn®.
Afro Unicorn® was founded by April Showers, a visionary entrepreneur who recognized that there was a void in the market for quality, authentic representation of black characters in children's products. As a result, April decided to take a leap of faith and start her own business. She worked tirelessly to create a brand that could empower and inspire others all over the world, regardless of their race or ethnicity.
Years of hard work and determination finally paid off in 2023, when Afro Unicorn® launched at Walmart Canada! The brand quickly gained attention from major retailers and currently has a major presence at seven of the world's top retail stores like Walmart, Target, HomeGoods, Kohls, JCPenney, Amazon, and NovaKids. Today, the brand has over 25 categories, ranging from apparel and accessories to toys, puzzles, books, bedding, bandages, backpacks, collectibles, and more.
April Showers is not only a successful entrepreneur but also a public speaker, mentor, and advocate for women empowerment. She has been featured on ABC News Good Morning America 3: What You Need To Know and CBS Mornings, where she shared her story about overcoming adversity and building one of the fastest-growing companies in the licensing space. Oprah Daily, Viola Davis, Sherri Shepherd, Alicia Keys, and Tina Knowles are all early believers.
In a recent interview with Angela Yee on her 'Way Up With Angela Yee' Podcast, April shared her success story and insights on how to build a successful business. She emphasized the importance of never giving up and always believing in yourself, even when faced with the most challenging situations. According to April, the key to building a successful business is to stay true to your vision and to build a team of passionate, like-minded individuals who share your core values.
April Showers and Afro Unicorn® have become an inspiration for many women and minorities who are looking to break into the business world. Through her story, April has proven that it's possible to achieve success and build a brand that represents and empowers people of all races and ethnicities.
April Showers and Afro Unicorn® are more than just a successful business. They represent hope, inspiration, and resilience. April's journey teaches us that with hard work and determination, anything is possible, and we can overcome even the toughest of challenges. Her success and recognition in the licensing space provide a blueprint for women entrepreneurs who aspire to break through the traditional barriers of gender and race in business and move forward with confidence. Through their stories, April and Afro Unicorn® offer us a vision of a world where representation, diversity, and inclusivity are at the forefront of our values, and where everyone can achieve their highest potential.
Personal Instagram | https://instagram.com/gotaprilshowers?igshid=MzRlODBiNWFlZA==
AfroUnicorn IG | https://instagram.com/afrounicorn_official?igshid=MzRlODBiNWFlZA==
Recent YouTube Interview | https://youtu.be/WZ-05JwQUvw
Media Contact
Organization: Afro Unicorn
Contact Person: April Showers
Website: https://afrounicorns.com
Email: [email protected]
Country: United States
Release Id: 0410236767
The post Empowering Women Entrepreneurs: The Story of April Showers and Afro Unicorn appeared first on King NewsWire. It is provided by a third-party content provider. King Newswire makes no warranties or representations in connection with it.

Information contained on this page is provided by an independent third-party content provider. Binary News Network and this Site make no warranties or representations in connection therewith. If you are affiliated with this page and would like it removed please contact [email protected]