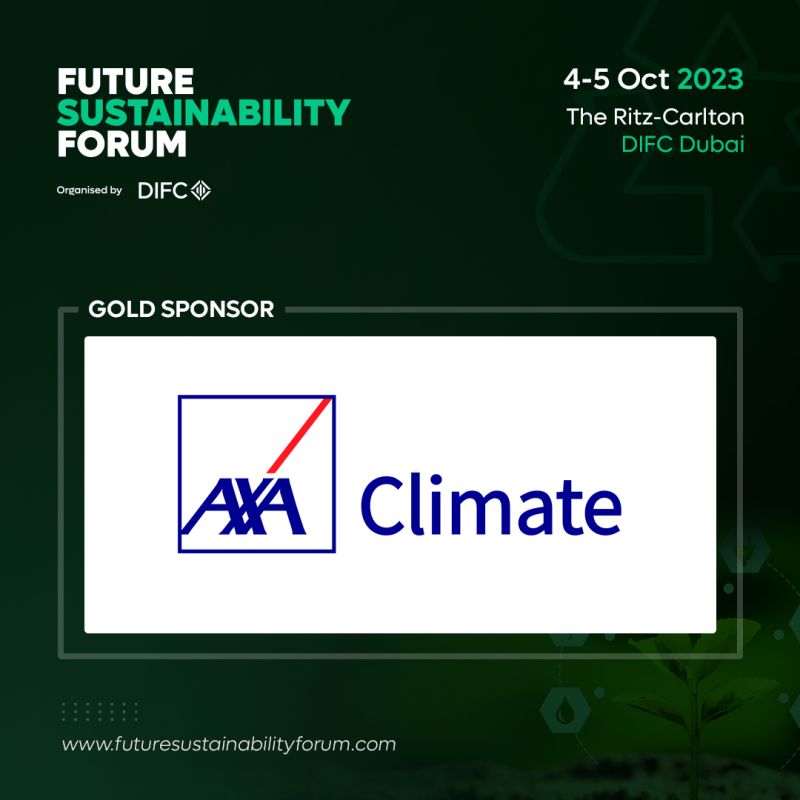 Dubai, 4th October 2023, ZEX PR WIRE, AXA Climate, a prominent voice in promoting sustainable practices and environmental responsibility, becomes part of the Future Sustainability Forum, organised by Dubai International Financial Centre (DIFC), as a gold sponsor taking place in Dubai on October 4-5.
AXA Climate will host pivotal discussions and presentations regarding the profound influence of sustainable solutions in the regions at the forum. With UAE set to host the COP28 summit from 30th November to 12th December 2023, this forum presents the world an opportunity to help bolster climate financing and implementation of sustainable solutions.
Global sustainability visionaries and innovators unite to exchange their insights and actionable strategies.
In recent years, the financial sector has seen a massive push towards unlocking sustainability-linked financial instruments and incorporating ESG consideration into their business practices building the foundation for a climate-resilient future. AXA Climate with its unique approach focusing on transitioning extractive companies into regenerative companies and its training and consulting services is driving agri-food, industrial and public sector companies to adapt to the evolving global climatic environment.
"We are excited to be part of the Future Sustainability Forum, which underscores AXA Climate's commitment to addressing the challenges related to climate change and sustainability," said Rushil Agarwal, Market Lead – India & Middle East AXA Climate "Sustainability has become a top priority for organizations in the region. The government and the finance sector have announced a profusion of investments to fund green projects and innovations, and with COP28, there is a renewed sense of urgency on climate action. Like any other transformation, its success hinges on organizations' ability to cultivate a workforce capable of implementing and driving ESG in the region."
During the Future Sustainability Forum, AXA Climate will actively participate in discussions, share its expertise, and contribute to the dialogue on pressing sustainability issues. The company is eager to foster partnerships and explore new avenues for collaboration.
For more information about the Future Sustainability Forum, please visit: https://www.futuresustainabilityforum.com/.
About AXA Climate
AXA Climate is an AXA entity dedicated to climate and environmental adaptation. Its purpose? Reducing our negative impact on the planet is not enough. AXA Climate is driven by the collective challenge to engage in the regeneration of our companies.
In order to engage largely, AXA Climate launched the Climate School, which provides over 40 hours of digital training content on climate change challenges to companies and public and educational organisations, which are eager to support their employees in the evolution of their professions. Today, more than 130 organisations have joined Climate School, making it accessible to more than 4 million people around the world.
AXA Climate also provides consulting services to the agri-food, industrial, financial and public sectors to help them successfully adapt to climate and environmental change and create positive interactions between planet Earth and their activities.
For more information, visit: www.climate.axa
Press Contact: Ana Pachon – [email protected]