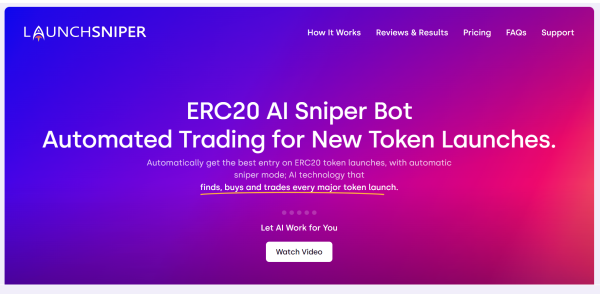 Walkerville, South Australia, Australia, 8th Nov 2023, King NewsWire – In November 2023, Building Bots Pty Ltd, introduced the Launch Sniper bot, a groundbreaking trading bot fueled by advanced deep machine learning technology. Its primary objective is to automate the investment process for cryptocurrency traders participating in new token launches.
The Launch Sniper bot entered its Beta phase in January 2023 and has now been officially launched, amassing over 750 orders in its very first week. Launch Sniper's mission is to eradicate the manual trading of new token launches on both the ETH and BSC networks.
This fully automated bot diligently scans for significant new token launches expected to generate substantial initial trading volumes. It then autonomously executes buy and sell orders, enabling users to secure optimal entry and automatic profit-taking at predefined target levels.
Feedback from Beta mode testers resoundingly confirmed that the Launch Sniper bot excels in executing precise and profitable trades without requiring human intervention.
Leveraging sophisticated algorithms, this system excels in real-time processing and analysis of vast unstructured data from sources like news, social media, and online platforms. It rapidly scans these sources to identify the most promising new token launches for trading.
What sets the Launch Sniper bot apart is its adaptability and capacity to continuously learn from new data, ensuring it maintains a competitive edge. With Launch Sniper, traders can achieve success levels previously considered unattainable.
Key Features of the Launch Sniper Bot:
Fully automated with zero human intervention required.
Pre-configured, eliminating the need for complex setups.
User-friendly interface, making it accessible to individuals without technical expertise.
Adaptable to both ETH and BSC networks.
Automatically find the best new token launches to trade based on real-time analysis.
"The world's first and only fully automated trading bot that dynamically searches new token launches in the cryptocurrency markets to uncover profitable trades," remarked Michael Roberts, senior developer at Building Bots Pty Ltd.
Furthermore, Launch Sniper proudly stands as the forerunner in introducing an intelligent sniper bot to the market. Their dedicated research and development team consistently pushes the boundaries of AI and deep learning to offer pioneering solutions to the financial sector. Armed with an in-depth comprehension of market intricacies, they harness the potency of AI to craft state-of-the-art trading bots and blockchain solutions.
While the market boasts numerous sniper bots, Launch Sniper distinguishes itself as the first to actively seek out token launches and execute buying and selling transactions, all achieved through cutting-edge AI technology. This innovative approach sets Launch Sniper apart from the competition, delivering a unique and fully automated trading experience.
Michael Roberts – Media Representative – Building Bots Pty Ltd ([email protected])
Media Contact
Organization: Building Bots Pty Ltd
Contact Person: Michael Roberts
Website: https://launchsniper.io/
Email: [email protected]
City: Walkerville
State: South Australia
Country:Australia
Release id:7585
View source version on King Newswire:
Elevate Your Cryptocurrency Trading with Launch Sniper Bot: The Cutting-Edge AI-Driven Solution

Information contained on this page is provided by an independent third-party content provider. Binary News Network and this Site make no warranties or representations in connection therewith. If you are affiliated with this page and would like it removed please contact [email protected]