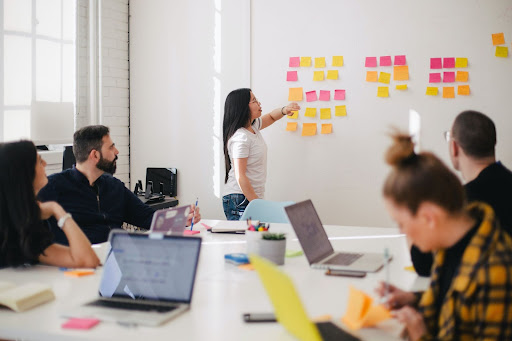 In the ever-growing e-commerce and digital marketing realms, brands need to push harder and harder to ensure their digital strategy remains prevalent. Through expert online marketing plans, Google advertising, social media ads and incorporating SEO, digital marketing has become an expansive branch that needs effective execution to ensure brands stay afloat online. Though, before these strategies are implemented, businesses must have a high-converting website that can easily transform site visitors into leads, sales and enquiries. 
Backed by a team of marketing experts, Design Point Digital is a website design and development agency focused on creating custom solutions for every client. They know the fundamentals of a good website design, including incorporating the right SEO tools and enforcing a user-friendly navigation system. On top of this, they include their marketing knowledge to take every future website's performance even further. As they are not the 'typical' type of website design agency, they are always looking for ways to think outside the box to capture the right attention but to also transform browsing consumers into conversions. 
Before starting Design Point Digital, Adrian Marolda had studied web design, but found himself working as a business analyst at one of the big four banks. He enjoyed building websites on the side for small businesses and soon turned this passion into his living. Based in Australia, this Melbourne website design agency has grown expansively and services global individuals looking for a highly optimised finished website. 
The team also specialises in other aspects of digital marketing and is a one-stop shop for those who prefer to keep their resources and assets in one location. Other services offered by the agency include SEO services, Google AdWords and Social Media Marketing. These can all be utilised strategically to enhance the website's performance, especially in its first few months of operation while business owners are still building their referral network. 
When asked why his company's websites differ from other services on the market, Adrian commented, "We tailor our SEO campaigns to suit your values and goals and not a one-size-fits-all approach." This tailored approach allows each business owner to receive a result suited to the growth trajectory of their business, rather than the standardised growth data from the industry. They also provide ongoing support without any lock-in contracts. 
This web design and SEO agency in Melbourne provides reporting and data-driven results at frequent intervals in an easy-to-read format. These reports show how the website traffic, leads, enquiries and conversions are progressing over time. 
If you are a business owner or individual thinking about opening your first business, the team are always happy to help. Reach out to them today to find out more about their website design packages and how they can assist you.